The Master Blaster faced a tennis elbow injury, but that is the other side of the story. Here I wish to take you on a road less traveled, where the path to victory is filled with a lack of information, negligence, and sheer complacency. Who does not like an outdoor sport, a jog, or even a nice walk around a garden? Sure, you like to walk, but would you prefer a walk around the concrete jungles, or around a green park? I will let you guess the answer.
Sportsmen and women around you will agree to the level of dedication and commitment required to perform at the highest level, and I can guarantee you that they will inevitably stress the contribution of the correct equipment and facilities to aid them through the process. Even Harry Potter had the Nimbus 2000 delivered to him!
Let us understand the real deal here. We have students passionate about sports like basketball, badminton, and sprinting (athletics). They love sport and parents wish to support them too! So, what happens next? The kid is enrolled in a school with sports facilities like basketball, badminton, and athletics. Here the parents see a school with theoretical sports facilities but never question the legitimacy of the same. This kid is introduced to a rough concrete surface with basket poles on each side and my friend is his/her introduction to the world of basketball. Now wait a minute, this is not how a basketball court is supposed to look like, correct? Because it doesn't look like that in the games we watch on YouTube or TV! The only thing ideal here is the basketball itself!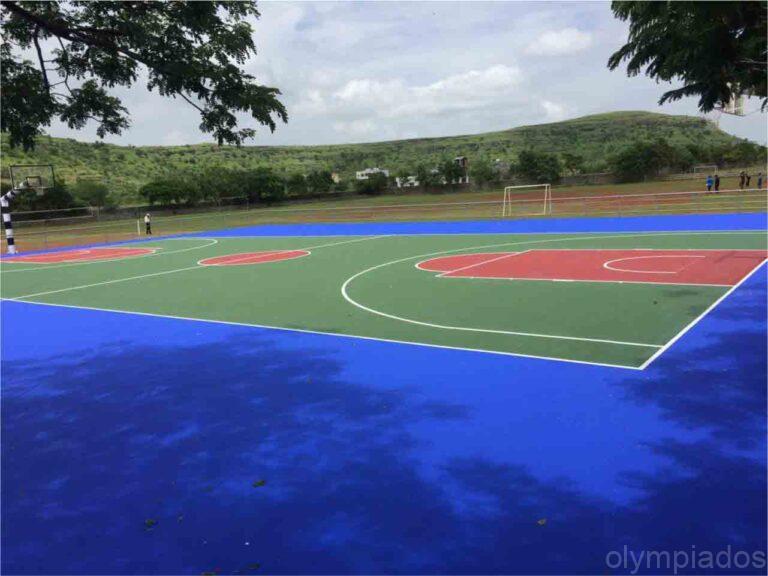 It is important to understand that such surfaces are not ideal to play the sport. Any surface but the ideal one is inconsistent in terms of force feedback, shock absorption, abrasion, and grip levels. Do we really need to discuss why these factors are important?  If you have a kid now or in the future, you need to know the risks and rewards out of this negligence. Numerous injuries (google them!) can happen due to an incorrect sports surface. Read about the benefits of an ideal sports surface made using synthetic, acrylic, or PU materials and you will be glad that you spared a few minutes to help yourselves with this essential information. 
Injuries create a mental and emotional spiral in any player's mind and a challenge to overcome them. Ask any sportsman/woman you know, would they like an injury? (Please don't, this is hypothetical) No one likes an injury, especially the one not caused by their fault. This culture of passive negligence or 'chalta-hai!' attitude needs to come to a halt. As responsible bachelors, parents, or citizens, it is our duty to be aware of the consequences of the choices we make. These very choices affect the reality of someone so pure and innocent – looking to be the next Michael Jordan or Saina Nehwal!