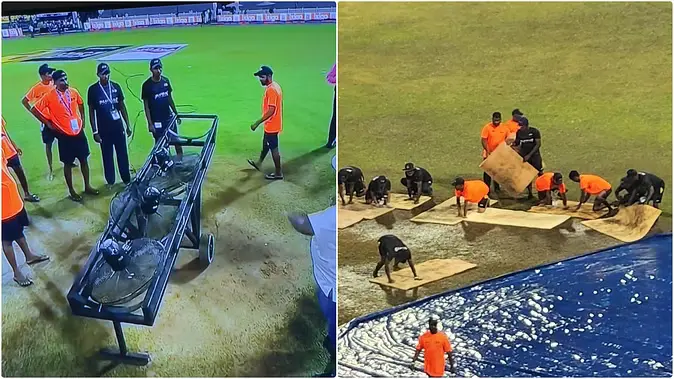 The 2023 Asia Cup hosted by Sri Lanka was an exciting cricket spectacle. The event took place under unpredictable weather conditions. Amidst the intensity of matches and persistent rain problems, a group of unsung heroes emerged to protect the cricket ground—the ground staff of the R. Premadasa Stadium in Colombo. The tournament saw several matches affected by heavy rain, leading to delays and even the rescheduling of games.
Despite these challenges, the ground staff worked tirelessly, starting their day as early as 4 a.m., to ensure the matches could proceed with minimal delay. They devised an effective method to drain water from the field quickly. They used traditional methods instead of relying on technology like supersoppers (mechanical sweepers), which move slowly and absorb little water. The entire ground was covered, and then the water was moved from cover to cover into the drains situated outside the boundary ropes. This process was repeated until the playing area was free of water.
The ground staff also innovatively used a 'heater bulb' and fans to dry the pitch and outfield, ensuring play could resume as quickly as possible after a downpour. This ingenuity, coupled with their tireless efforts, played a crucial role in enabling matches to proceed despite the challenging weather conditions.
Understanding the significance of effective Drainage system in a Cricket Ground and Football grounds.
Drainage is the removal of excess water from the soil surface and/or soil profile by either gravity or artificial means. Drainage is one of the most important issues when managing a sports grounds like Cricket Grounds and Football Grounds. Excessive rainfall, and/or winters with heavy snowfall, often produces excess soil water conditions. Heavy rains will frequently result in runoff because the rainfall rate is greater than the rate at which water can infiltrate the soil. Standing water and/or saturated fields can cause cancellation or postponement of events, increase likelihood for compaction and ruts, and lead to poor overall field health. Efficient soil drainage ensures that water does not collect on the athletic surface. A well-drained sports surface improves safety and playability, allows turfgrass plants to access necessary nutrients, allows better air exchange, and improves turfgrass recovery potential.
Successful drainage comprises three key components:
Surface drainage: Surface drainage is when water runs off the surface of the field.
internal drainage: Internal drainage refers to water entering and moving through the soil profile
Sub-surface installed drainage systems: Sub- surface installed drainage systems refer to pipe systems installed beneath the field to direct excess water from the rootzone to a drainage outlet.
The construction technology of modern sports facilities is conditioned by their purpose, so they are distinguished as single-purpose facilities of civil engineering construction (hippodromes, racing tracks, sports grounds, Cricket Pitch) and building construction (sports-recreational centres, school halls, etc.) or multi-purpose (multifunctional) sports facilities.
This where a Sports Project Management Consultants come into picture. The Sports Project Management Consultants play the most important part in any sports infrastructure construction project, the project may be small or large. They make sure the designing and planning of every turf is taking place smoothly at every stage of project and this helps in proper execution of work for any construction project as per the norms or the federations and requirements for international sporting events. Sports Project Management Consultancies provide effective measures to improve the efficiency of the sports infrastructure holistically.